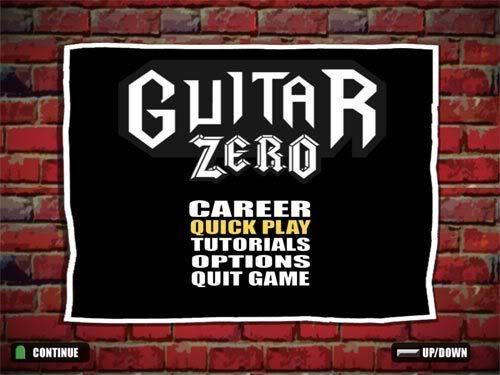 Se você já jogou o
Frets On Fire
, mas ainda procura um Guitar Hero para computador. Guitar Zero pode ser a solução. A grande diferença que nele é possivel jogar com a guitarra original do Guitar Hero, precisando ter apenas um adaptador PS2/USB.
Assim como o
Frets On Fire
é possivel adicionar músicas originais do Guitar Hero 1 e 2.
If you played
Frets On Fire
and always wanted to play on your computer, Guitar Zero is the game you seek. The big difference that it is possible to play with the original guitar of Guitar Hero, need only have an adapter PS2/USB.
Like
Frets On Fire
you can add Guitar Hero original songs
Como adicionar as músicas no Guitar Zero?
-Cole as músicas na pasta SONGS no lugar onde o Guitar Zero está salvo
-Na pasta"Songs", Abra com o Bloco de Notas/Notepadtem abre o arquivo "setlist.dat".
Add / Installing the new songs in Guitar Zero
-Go to the folder Guitar Zero and look for the folder songs
-Paste downloaded file
Você abrirá isto / You see this
":0:Opening Licks
:1:Axe Grinders
:2:Thrash and Burn
:3:Return of the Shred
:4:Fret-Burners
:5:Face-Melters
:6:Bonus Tracks
:0:Look And Feel Years Younger:SONGS/LOOKANDFEEL/song.dat
:1:Fake It:SONGS/FAKEIT/song.dat"
Número das listas / List Number

0: Opening Licks
1: Axe Grinders
2: Thrash and Burn
3: Return of the Shred
4: Fret-Burners
5: Face-Melters
6: Bonus Tracks
-Toda música que você colocar na pasta "Songs", terá que ser registrada nesta lista "setlist.dat".
-All music you add in folder SONGS, you will have a register in "setlist.dat"
Ex:
:0:Texas Food:SONGS/GH1/TEXASFOOD/song.dat"


GUITAR ZERO + TOOLKIT - 52.5 MB
Official Site
GUITAR ZERO RapidShare
GUITAR ZERO Easy Share
Músicas pro GZ / Audio for GZ:
SONGS GUITAR HERO 1 - 273.5 MB
SONGS GUITAR HERO 2 - 510.3 MB
Créditos / Credits

Tecno World